In a shocking case reported, a city-based customer of the food-aggregator app Swiggy found a blood-stained bandage in his food packet on Sunday. However, Swiggy has suspended the outlet from its list.
The web-portal The News Minute (TNM) reported, the complainant was identified as Balamurugan, who had ordered food from a restaurant in Selaiyur. The complainant after eating half of his noodles found that a blood-stained bandage was lurking in the packet.
The TNM report mentioned, Balamurugan wrote to Swiggy, "Contacted restaurant and they aren't sensitive and offering a replacement for the food! Who again wants to eat such contaminated food! Tried to contact Swiggy, no option to call them directly through an app for already delivered food and the only option is to chat but they aren't responding either!"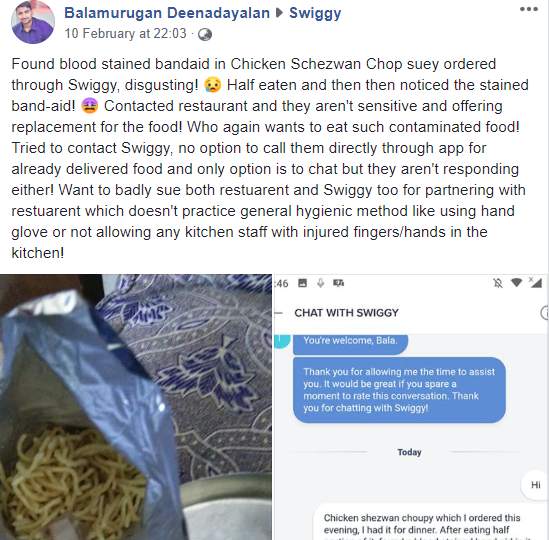 He further added that "He wants to sue both restaurant and Swiggy too for partnering with a restaurant which doesn't practice general hygienic method like using hand glove or not allowing any kitchen staff with injured fingers/hands in the kitchen."
Meanwhile, Balamurugan also added that he hoped he has raied awareness among other users of the app from his post. And he further expects from the aggregator to corrective measures.
However, Swiggy has responded to his Facebook post and mentioned that they wiill investigate the matter and will get back to him. However, responding to the complaint, Swiggy has suspended the outlet from its list.