Sarcastic fringehead is a weird creature found underwater in the Pacific, off the coast of North-America from San Francisco, USA to Baja California in Mexico. They have a large mouth, peg-shaped tooth and an aggressive behaviour that helps them predate on the attackers.
They're typically seen as a dull brown boggle-eyed sockpuppet of a fish. It has also been called "spectacularly ugly" in scientific literature. They are ambush predators, so they like to stake out a hidey hole that offers them both protection and a great vantage point from where to pounce on prey.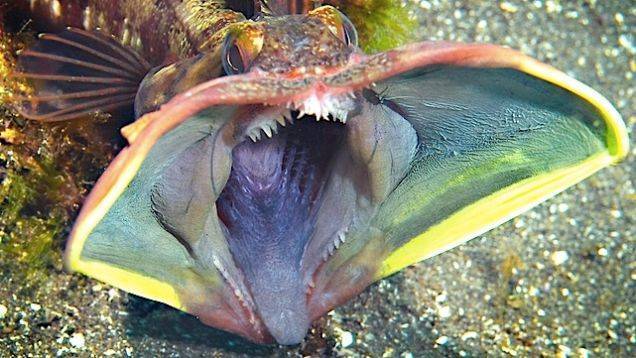 Once they've reverse parked into their chosen nook, they'll aggressively charge at anything that comes too near including the divers. When rival males get too close to each other they unfurl shockingly large and colourful mouths and make gaping threats at one another, as if they are kissing.
Divers..beware of this horrifying creature underwater!!